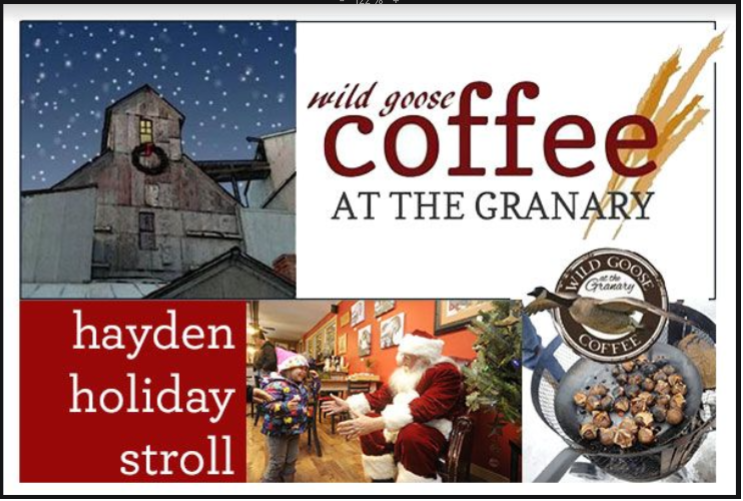 JOIN US for our 11th Annual Hayden Holiday Stroll this Saturday, December 11th from 1-4pm. We are so delighted to continue this tradition with the Hayden Heritage Museum! SANTA!!! We'll have a very special visit from our friend from the North Pole! Santa will be here from 1:30-3:30 to listen to the wishes of all the good girls and boys.
Jennifer Stewart Photography will be here to take family (yes, pets too!) holiday photos with Santa – capture seeing Christmas through a child's eyes!
HAY RIDES to the Hayden Heritage Center! Thanks to the Wattles family, hay rides between the Granary and Museum will be happening – a great family tradition in Hayden. The Museum will be decorated for the Holidays and offering Free -'To go" children's craft bags​; hot cocoa & cider; Book signing with Belle Zars with her new book, "Only Connect" about the Elkhead area and families!
Chestnuts Roasting on an Open Fire will be featured along with hot spiced cider and some holiday baked delights.
Vendors will be here both selling their goodies (soaps, personal care and more) along with organizations offering crafts. Come and catch up with your neighbors and find some holiday ideas.
ALSO happening next door at Yampa Valley Brewing Company is their "Plants on Tap" event – enjoy an evening of Beer, Tropical Plants (for sale) from The Jungle Pet Shop, Live Music and food from Sage & Spirit. Plants and beer will be available starting at 12pm, live music starting at 6pm and food from 4-8. Come get tropical!
Wild Goose Coffee is also happy to offer several holiday gifts to brighten your loved ones stocking or tree – from local honey to espresso beans. SAVE on our $5 gift cards (buy 4, get one free STROLL SPECIAL). Come and share the spirit of JOY this season at the Granary!