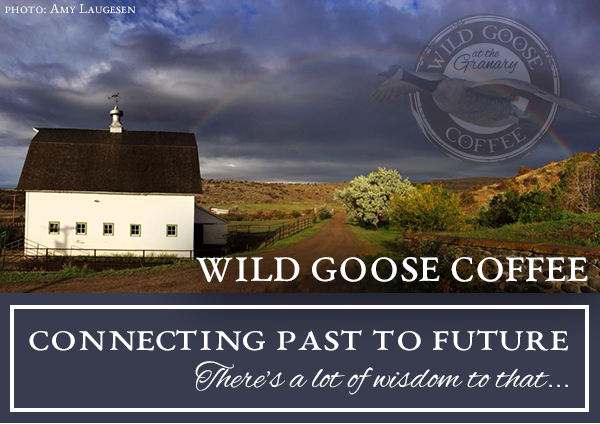 It's been a while since you've heard from us at Wild Goose Coffee…. besides creating some tasty new menu items such as sausage rolls, breakfast burritos and more, we've been working towards ensuring we're serving the most sustainably raised food we can find – from local Elkhead Ranch potatoes in our burritos, to Innovative Ag's microgreens in our salads (yes, we have salads) and quiche, to using organic milk in all of our latte's, we are striving to ensure we support local businesses with almost all of our purchases and provide the best food and amazing coffee and tea beverages to enjoy.  All handcrafted the old-fashioned way… by hand, by spoon, by rolling pin, (no mixers here) and with a lot of love and care.  What we nurture thrives!

Hopefully we'll get back on track with our newsletters… there's been a lot happening that we simply cannot fit into one message, so you'll be hearing from us again soon – for now…

Both at home and here at the Granary, we want to connect to our food.  Not just any food.  Local food. Good food. Raised with love and care with good friends.  We've joined forces with another heritage farm – the Wattles' "Horse & Hen" to create HAYDEN ROOTS Community Supported Agriculture… check it out at www.haydenroots.com.  Our intention is to connect Hayden community members to their local food source.  We harness the deep-rooted wisdom of heritage lands to inspire the future.  We only have a couple of CSA membership shares left, so let us know as soon as possible if you'd like to join.  We also look forward to serving some of the fresh vegetables, eggs and more here at Wild Goose Coffee.
Mark your calenders: Upcoming Hayden Events & Activities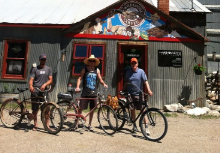 Slowing it down… Wendell Barry recently wrote a beautiful essay that we've shared with many – "Farmers without Farmland". It has sparked many thoughts including the importance of slowing down to look at our land, our community, our soils. Best way to do that just might be a bicycle. Given that we have a passion for vintage bicycles (and a growing collection) look for bicycles at Wild Goose Coffee to ride around our community this summer. If you like the bike a lot, you can buy it too!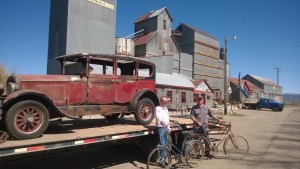 Bobby Robinson & Patrick took a road trip to Idaho to retrieve the perfect parts car for Bobby's restoration of his 1927 REO Flying Cloud. Patrick found a treasure as well… more vintage bicycles – a 1923 Mead Ranger along with a sweet 'newer' 1955 Columbia for Tammie. Rumor has it both may appear at the upcoming Ride the Cog for ALS fundraiser on May 16th!