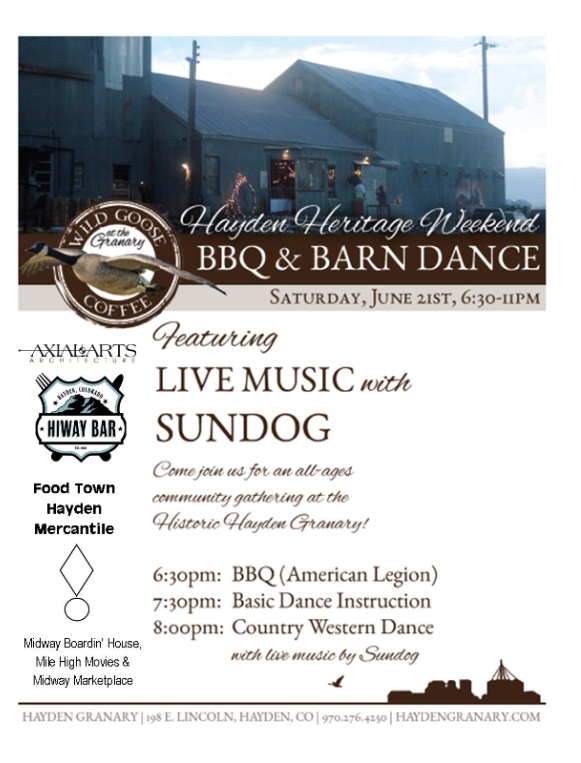 TODAY we're having a Ranch/Farm Visit at our Diamond O / Bolten-Kimsey Ranch (2-5pm) and TONIGHT is our Barn Dance (6:30-11pm)
The Hayden Heritage Center has brought back Dorothy Wickenden, author of bestseller "Nothing Daunted" for tours of the Elkhead Schoolhouse.  Although both days have sold out, there's still plenty of heritage intrigue to come and join.
We welcome you to tour our own 'Diamond O' / Bolten-Kimsey Ranch from 2-5pm both today and Sunday for an 'open house'.  Leslie Kimsey built our ranch back in 1919 and it was subsequently the home of Isadore Bolten and then our dear friend (and Hayden historian) Donna Hellyer before we became the stewards in 1994.  It is now on the National; State and County Registers of Historic Places and remains relatively unchanged since its beginning.  Thanks to the incredible efforts of ranch-mate Jr Lott, we are working towards connecting the farm/ranch to Wild Goose coffee for 'farm to table' and 'seed to table' food.  Although we're still early in the process, we've started 'hugelkulture' beds with potatoes; peas and carrots; a big garden and Jr just returned from a research trip to Washington studying heritage grain growing techniques.  Call the coffee shop at 970-276-4250 for more info and directions – our place is just two miles northeast of Hayden.
With the farm to table concept we are so excited to be carrying 'Moonhill Dairy' fresh, pasteurized, non-homogenized (cream's still in it) grass fed milk from the Elk River Valley.  There are few things better than fresh milk and a latte makes it even more perfect.
And TONIGHT, our favorite band SUNDOG plays at the Granary.  The American Legion will have their BBQ trailer set up by around 5:30 for dinner fare (proceeds to the Legion).  They have great local 4H beef in their burgers, so come try it out.  Marlin and Dulcy will walk us through basic dance steps starting at 7:30 and Sundog starts playing at 8pm.  Thanks to the support of Axial Arts; the HiWay Bar; the Hayden Merc; Midway Boardin' House/Mile High Movies & Midway Marketplace along with Diamond O for putting on this community event.
Hope to see you for some great fun!